YOUR GROOVY HOST:
Billy Ingram

The greatest entertainers of the seventies -
especially those you never heard of!
---
AN OBSCURE COUNTRY
ALBUM OF THE 1970s
February 22, 2013

Mary Kay Place became a television icon on the weeknight syndicated soap opera satire Mary Hartman Mary Hartman (Jan. 1976-May 1977).
As the aspiring country western singer Loretta Haggers she walked away with the show with her exquisitely daffy performance coupled with outrageous storylines like Loretta babbling on about, "the Jews what killed our Christ" on a 'live' Dinah! afternoon TV talk show.
Perfectly cast and in alignment with the zeitgeist of the time, it was only natural that Mary Kay Place, as her TV alter ego, would record an actual album in 1976. 'Tonite! At the Capri Lounge, Loretta Haggers' was produced by Brian Ahern; it was nominated for a Grammy Award, reaching # 6 on the Country album charts. The single, "Baby Boy" written by Ms. Place, reached #3 and got plenty of crossover play.
You can read more about Mary Kay Place and her albums here.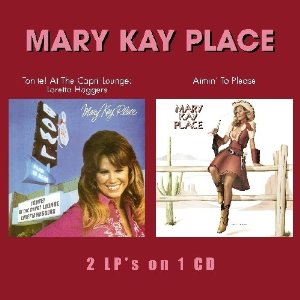 This wonderfully rich LP was not a sloppy send-up of country music, the songs were all solid and pristinely produced. Dolly Parton sang background on two cuts, Emmylou Harris, Anne Murray and Nicolette Larson all sang backup on various tunes as well.

Here's entire first side of the LP. "Vitamin L", again written by Mary Kay Place, was the follow up single from the LP but suffered from limited airplay, making it to # 77 on the country charts.
This is side two. Producer Brian Ahern was most well-known at this time for his hit LPs with Anne Murray and Emmylou Harris.
The music you hear from the 1970s on the radio tends to be the same old tired hit songs they've been playing for decades.
Rarely will an oldies station stray outside of the top ten songs of the decade. That's because there were so darn many - it was the era of the 'one hit wonder.'
Obscure 70s looks at LPs and singles that may not have made the top of the charts but were amazing none the less.
---
Obscure 70s Looks At:
Walter Murphy's Phantom of the Opera
Mary Kay Place's Tonight at the Capri Lounge
Barbra Streisand's 1970s Albums
Sonny & Cher's Unreleased 1977 Album
Melissa Manchester's Bright Eyes
---